Lets hit the Coffee cocktails!!
1.HOT BOOZY COFFEE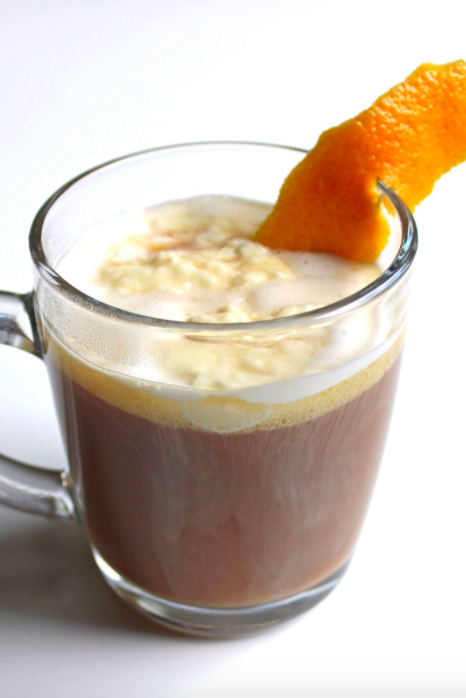 Ingredients:
½ shot Brandy
½ shot Grand Marnier
½ shot Kahlua
4-5 oz. Espresso coffee
1 orange peel
½ cup whipped cream
½ tsp sugar
Directions:
Put the whipped cream in either a bowl and whip with a whisk or you can put it in the blender. Whip until soft peaks and then add sugar to taste.
Take your orange peel and lightly "burn" with a lighter. This will help the oils come out and will flavour the coffee later.
Pour the brandy, grand marnier, kaluha, and freshly brewed coffee in a mug. Stir with the orange peel. Spoon some whipped cream on top and enjoy right away!
Courtesy of SideChef blogger Trish Santoro (Well Work Fork)
2.HOT WHITE RUSSIAN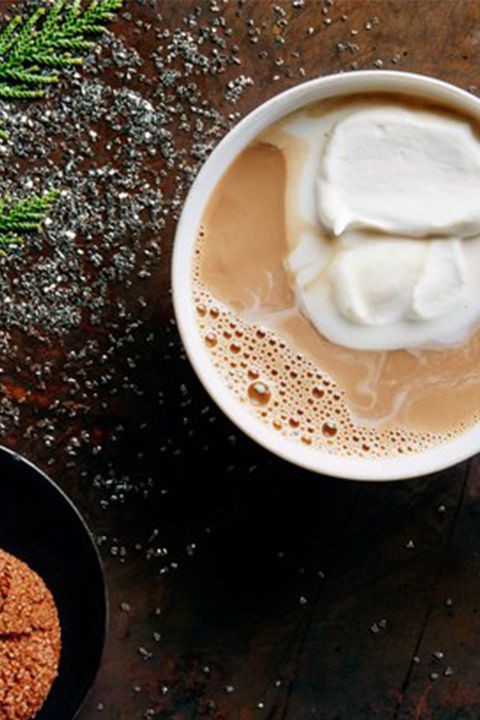 Ingredients:
2 1/2 cups freshly brewed coffee
1/2 cup heavy cream
1/2 cup Kahlua
1/4 cup vodka, or to taste
Whipped heavy cream for garnish if desired
Directions:
In a saucepan stir together the coffee, the 1/2 cup cream, the Kahlua, and the vodka and heat the mixture over moderate heat until it is hot. Divide the mixture among heated mugs and garnish each drink with some of the whipped cream.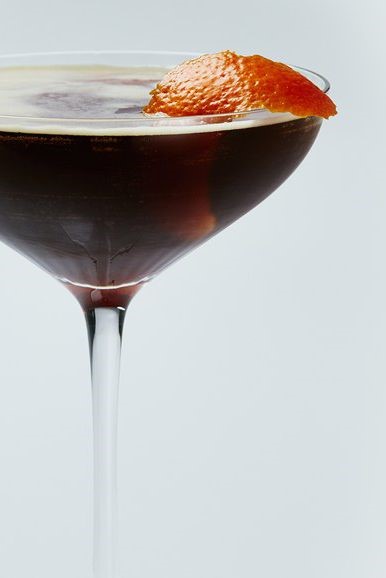 Ingredients:
2 oz. sweet vermouth, preferably Italian
1 1/2 oz. amaro (preferably Averna)
1 1/2 oz. strong cold-brew coffee
1 oz. simple syrup
Club soda
Orange wheel (for serving)
Directions:
Mix vermouth, amaro, coffee, and simple syrup in a tumbler. Add ice to fill and top off with club soda. Garnish with orange wheel.
4.COFFEE OLD FASHIONED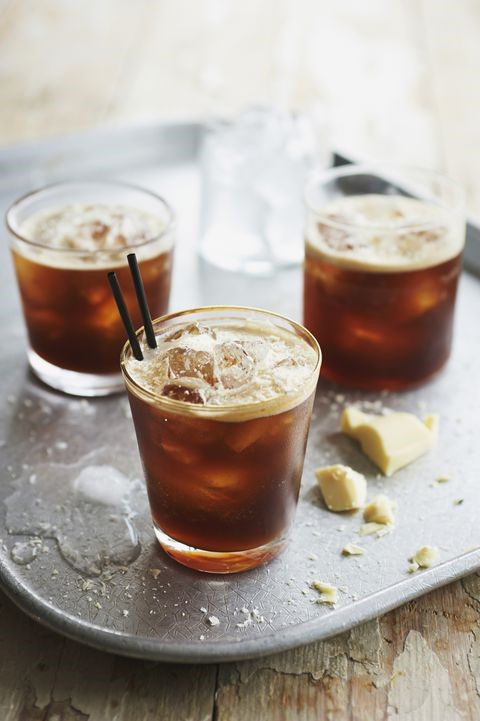 Ingredients:
2 oz. Espresso Coffee at room temperature
1 oz bourbon or rye whiskey
1/4 oz simple syrup
A dash of Aromatic bitters Cocktail Flavouring
1 1-inch piece of lemon peel
Directions:
Combine espresso, bourbon, simple syrup, and bitters in a shaker and fill with ice. Stir with a bar spoon for 30 seconds and strain into a rocks glass filled with ice. Twist lemon peel over the drink and rub around the rim of the glass. Garnish with lemon peel, optional.
Served at Everyman Espresso (sans alcohol of course) in New York City.
Recipe from Bon Appetit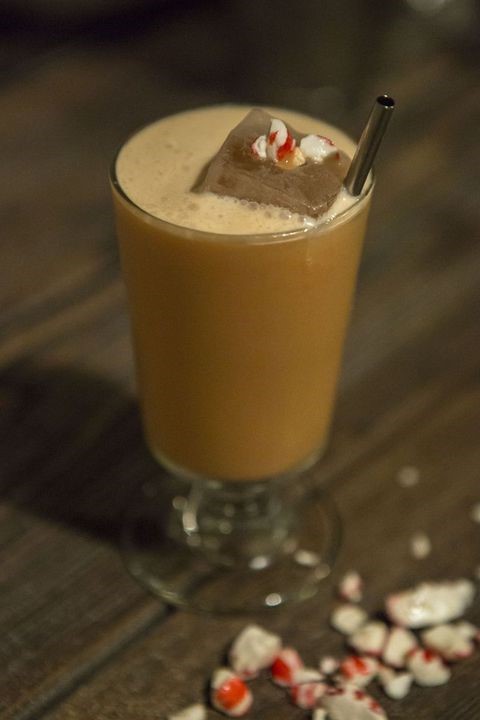 Ingredients:
1 1/2 oz. Anchor Distilling Christmas Spirit
1/2 oz. Espresso coffee
1/4 oz. Tempus Fugit Spirits Crème de Cacao
1/4 oz. Tempus Fugit Spirits Crème de Menthe
1/2 oz. heavy cream
2 dashes Angostura bitters
Directions:
Shake well and strain over new ice into rocks glass. Garnish with a mini candy cane.
Courtesy of Josh Trabulsi of Burritt Room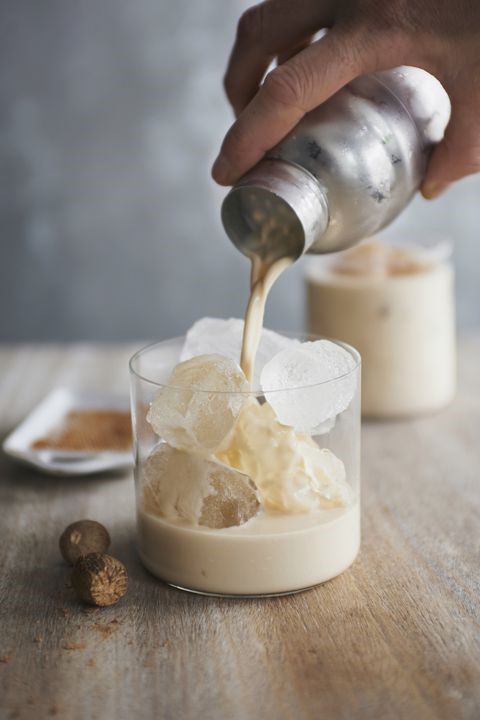 Ingredients:
1 oz. Kahlúa
1 oz. Absolut Vodka
1 oz. cream
Top with Cola
Directions:
Shake the alcohol and cream with ice. Strain into a short glass with lots of ice, but make sure not to fill it to the brim. Leave some space to top it off with cola.
Recipe from Kahlúa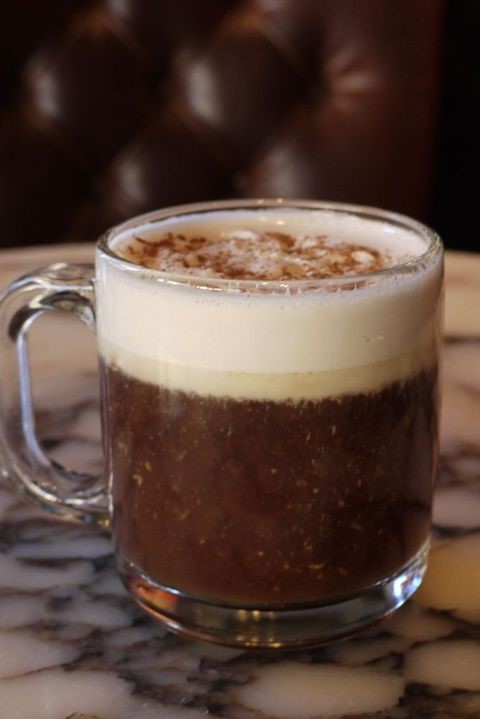 Ingredients:
1 oz. Pierre Ferrand 1840 cognac
1 oz. Luxardo Cherry Liqueur
¼ oz. Cinnamon Syrup
1 oz. Espresso Coffee
Directions:
Mix all ingredients and top with coffee, whipped cream, and powdered cinnamon.
Courtesy of Eastern Standard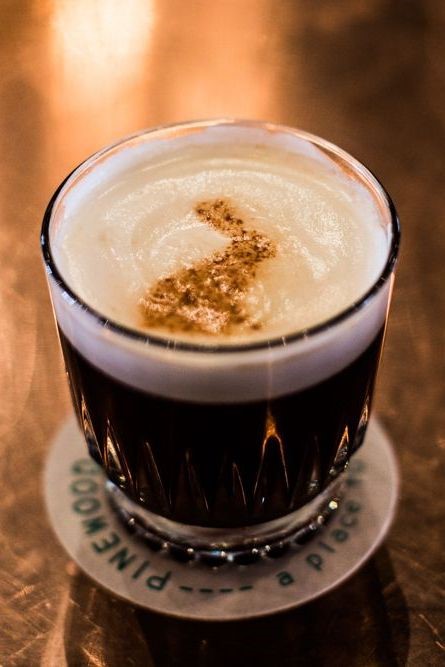 Ingredients:
1/4 oz. Rich Demerara Syrup
3/4 oz. Meletti
3/4 oz. 1776 Rye
4 oz. Espresso coffee

Directions:
In a preheated 7 oz. glass, add the Demerara syrup, Meletti, rye, and brewed coffee. Stir. For a whipped topping, lightly whip cold cream and Demerara syrup in a squeeze bottle. Float ¼-inch of cream on top of the drink with a barspoon and finish with atomized Angostura bitters.
Courtesy of Pinewood Social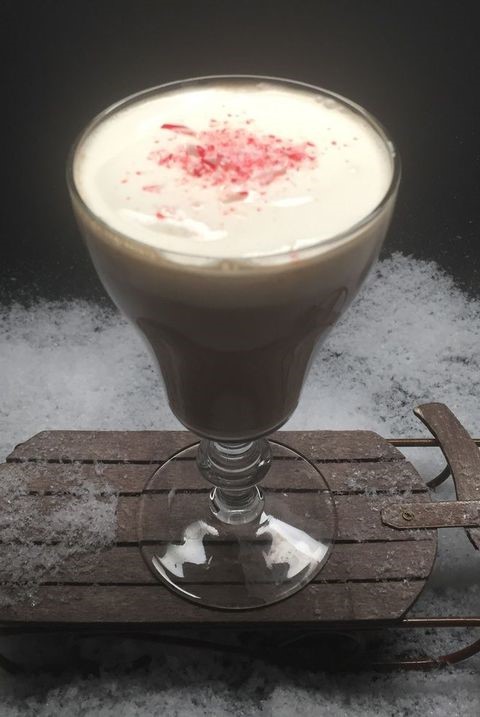 Ingredients:
1 1/2 oz. Bourbon
1/2 oz. Peppermint Syrup*
1 Shot Espresso Coffee
Lightly Whipped Cream
*To make peppermint syrup: Crush candy cane and measure one cup, heat with one cup water until candy dissolves. Let cool and store in glass.

Directions:
Add Jack and sugar to warm glass. Add coffee and top with cream. Sprinkle crushed candy cane on top.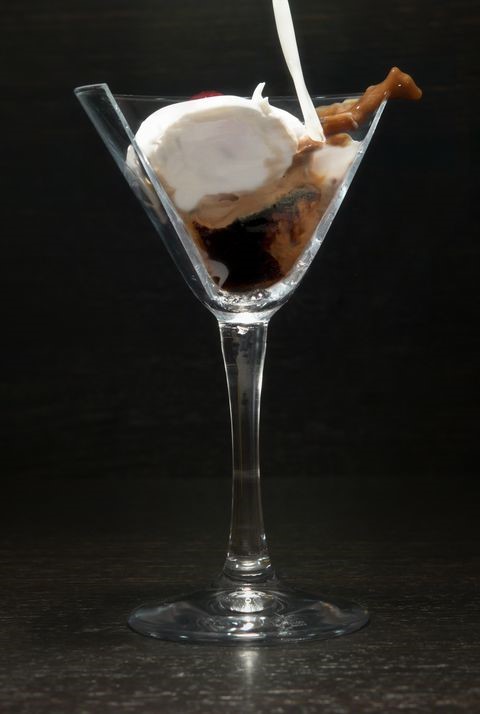 Ingredients:
2 oz. Vanilla Vodka
1/2 oz. Cream de Cocoa
1 oz. Kahlua
1 scoop Vanilla ice cream
Directions:
Add two ounces of vanilla vodka, half an ounce of creme de cocoa, and one ounce of Kahlua into a shaker. Drop in about 3 ice cubes. Close the shaker and shake until the liquid is chilled.
Pour mixture into a martini glass and top it off with vanilla ice cream. Serve with a spoon and enjoy.
Recipe from Brit + Co.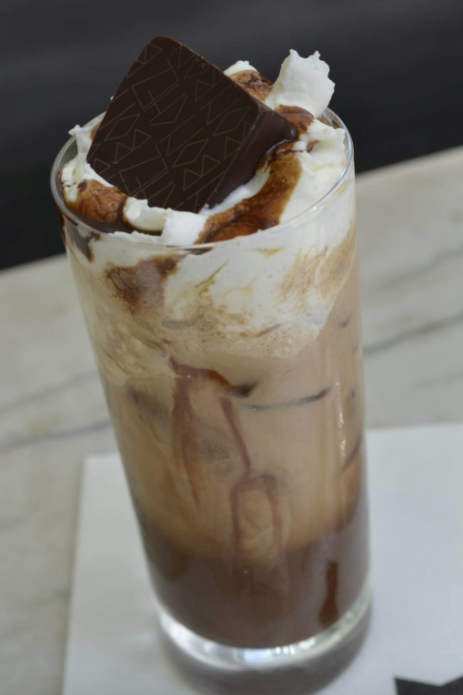 Ingredients:
Chocolate syrup
Vanilla syrup
2 oz. espresso
Milk
Whipped cream
Directions:
In a cocktail shaker, add two pumps of Chocolate Syrup, four pumps of Vanilla Syrup and a double shot of espresso. Add ice to the shaker and shake until cold. Fill cup to the top with ice. Pour the espresso mixture over ice. Fill to top with milk. Top with whipped cream and a bon bon of your choice.
Served at Chez Bon Bon at the Fontainebleau Miami Beach in Miami, FL.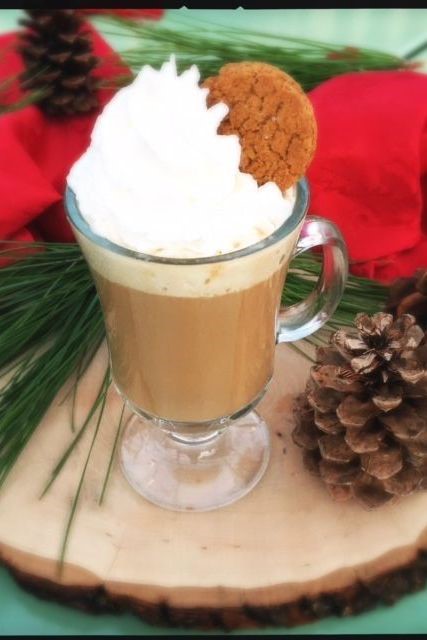 Ingredients:
2 oz. Spiced and buttered Rum**
3/4 oz. Ginger syrup
1.2 oz. Half and half
Top with black coffee
Garnish with whipped cream and a ginger snap
**Buttered Rum:
1 Bottle Rum
4 oz. Unsalted butter
2 tbsp. Maple syrup
2 tbsp. Granulated sugar
2 tsp. Cinnamon
10 Cloves

Directions:
Place all ingredients except rum in a pot and bring to a simmer till butter is melted. Slowly stir in rum. Pour into a casserole dish and place in freezer for 35 minutes. Skim butter fat from surface. Pour through a fine mesh strainer.
Courtesy of PB&G at the Four Seasons Orlando