Biscuits and Cakes
Coffee Biscuits
Coffee Pecan Biscuits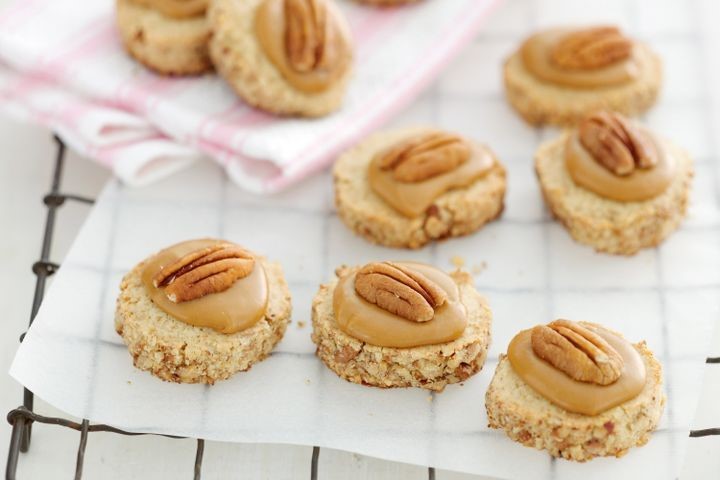 INGREDIENTS
125g butter, softened
1/2 cup caster sugar
1/2 teaspoon vanilla extract
1 egg, at room temperature
2 cups plain flour
1 teaspoon baking powder
1 tablespoon milk
2 teaspoons espresso coffee powder
225g pecan nuts
COFFEE ICING
3/4 cup icing sugar mixture
1 tablespoon boiling water
1 tablespoon butter, softened
2 teaspoons espresso coffee powder
METHOD
Preheat oven to 180C. Line 2 baking trays with baking paper.
Using an electric mixer, beat butter, sugar and vanilla in a small bowl until pale and creamy. Add egg and coffee powder and mix until well combined. Sift flour and baking powder over butter mixture. Add milk and stir until just combined. Divide dough in half.
Roll each piece of dough into a 4.5cm diameter log. Finely chop 1 cup pecans. Roll logs in chopped pecans until well coated. Wrap each log in plastic wrap. Refrigerate for 30 minutes or until firm.
Using a sharp knife, carefully cut logs into 1.5cm-thick slices. Place on lined baking trays. Bake for 15 to 18 minutes, swapping trays over in oven after 10 minutes, or until light golden. Allow to cool on trays for 5 minutes. Transfer to wire racks to cool completely.
Make coffee icing: Sift icing sugar into a bowl. Combine boiling water, butter and coffee powder in a separate bowl and stir until coffee is dissolved. Add to icing sugar and stir until mixture is smooth.
Drop 1 teaspoon of icing onto centre of each biscuit. Top with 1 pecan. Allow icing to set. Serve.