The Coffee Pot Australia - Coffee Roasters
Author: Mike Norton
Welcome to The Coffee Pot eCommerce store!
We are obsessed with your coffee experience and we certainly think that our well-rounded eCommerce store fits the bill!
Owners Mike and Tan Norton have been in the corporate world for some time and we decided to break our corporate shackles, roast our own Coffee blends and single origins plus sell it online by running our own online Coffee Portal. We are a mad couple, meeting online in June of 2016 then eloping to Fiji and getting married in November of the same year! Yes, we don't do things by halves and now with a blended family of 6, chaos reigns at every corner. Throughout the chaos, we ensure that every day is a fun day and combat life head on! Our mantra (if you want to call it that) is "a road with no obstacles is a road that leads nowhere".
We live in Balmoral Ridge in Maleny (just north of Brisbane in Queensland, Australia) and have some amazing views of Queensland's Sunshine Coast: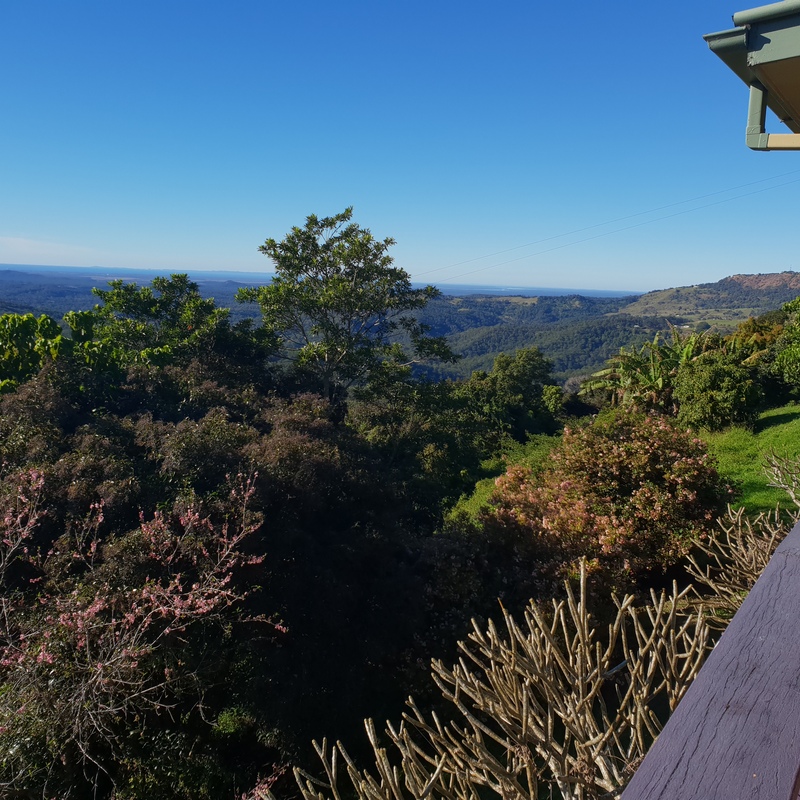 The View from our back deck here at Balmoral Ridge
We are foodies and have been for years, coming up with some awesome combinations of flavours - I have to say that some of our breakfasts are fit for any Palace. Saying that we are definitely cooks and not chefs, the stress of a full-blown kitchen has never appealed. However, with creating flavoursome food and drinks and keeping our 6 forever starving children fed and satisfied, we do know flavours and how to please a foodie's pallet very well! With this in mind, we have taken our passion for flavours and the time to study, cultivate and create some of the finest tasting coffee that we have had the pleasure of producing. We are confident that all of our Coffee blends and single origin roasts will put a smile on anyone's face. If you're up for a cuppa only in the morning to wake up or have several throughout the day, you'll be addicted to our Coffee Roasts!
Our overall philosophy is to ensure that all of our select products are sustainable, of the highest quality and will stand the test of time. Therefore, we don't offer every product available on the market to complement our suite of offerings, but only a select handful of products on each category. Some categories will only have one or two products!
Check out our online Coffee Store for the best of what the Coffee industry has to offer. From our own premium Coffee roasted blends and single origins to products made by some of the finest manufacturers in the Coffee world today. Throw our website into your browser today and order now to start drinking and making the perfect cup of Coffee!
We are producing some world-class premium roasted Coffee from our extensively sourced green Coffee Beans. Our roasted Coffee beans are available for purchase online from our web store where we deliver daily throughout Australia. When you buy our roasted Coffee beans online they are posted promptly via Australia Post, with our postal run occurring promptly at 4pm QLD time every weekday.
We have our selection of Coffee brewing supplies online and only offer the highest quality Coffee brewing products for our home or professional Barista. Our range of online Coffee brewing supplies consists of everything from the Hario V60 dripper and drip kettles to the Chemex Infuser and a wide range of manual Coffee grinders that ensure your Coffee grounds are of perfect uniformity and size.
Whether you're looking for an automated espresso machine for your office or a more discerning home espresso machine, we've got you covered. With brands as discerning as the Rocket Espresso and the single group La Marzocco with accompanying Compak or Eureka Grinders, we've got you covered. Check out the machines and grinders we have for sale and get making your perfect espresso cup now!
This is where we shine, supporting the home roasting Coffee snob every step of the way. We're fully behind the Behmor 1600 plus home Coffee roaster and offer this with some of our pre-packaged Green Coffee Beans. Any questions on home roasted coffee or the actual green Coffee beans and their origins, just ask as we'll be happy to answer.
We've sourced these from Naked Syrups and have these in stock ready to go. Paradoxically these additives have no additives, hence the Naked name. No artificial and completely natural, these goods are sourced within Australia ensuring we keep it local!
Finally, welcome to our eCommerce Coffee store - we are ultimately obsessed with your Coffee journey, we hope you're as addicted to all things that make up the Coffee cuppa as we are!
Mike and Tan. x